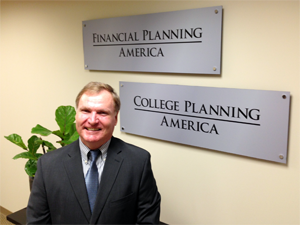 Dave came to the USA from South Africa in 2000 after having spent many years running various businesses in manufacturing, recruitment and sports.
Dave brings to the table an array of business skills that include a strong work ethic, well-developed people and team building skills, sales, client development, project management, entrepreneurial skills that have been tested in the real world, proven leadership skills with both paid employees and volunteers, and practical corporate organizational skills.
Dave is a certified College Planning Specialist, has served on the advisory board of a national College Planning training organization, is a licensed Financial Advisor and is a qualified master mentor in one of the nation's most esteemed program for financial professionals. He is heavily involved in training up a team of financial advisors across the USA.
Dave has developed a comprehensive College Planning System to help both parents and students to manage their college experience in the most efficient manner possible and currently presents educational seminars at many schools.
Dave is also intimately involved with a non-profit Threads Africa that does work amongst people in South Africa that are less fortunate than most of us. He has taken more than 250 people to Africa over the past 10 years to participate in this work.
Dave Coen
714.813.1703
CA Ins License #0G82578
davec@collegeplanningamerica.com